How to join Saatchi Art's community of emerging artists
To begin the process of creating your official artist account on Saatchi Art, please follow the steps to create a "Collector" account if you have not done so already.
Once you have created a base Collector account with us, you can now begin the process of registering your account as an Artist. This is a free, simple process that does not require any special applications.
Step 1 - Become an Artist
Now that your account is set up, hover over or click on your name in the top right corner of the screen to view the drop down menu and click on the link to 'Become an Artist' which will take you to the onboarding page where you can also learn more about selling on Saatchi Art.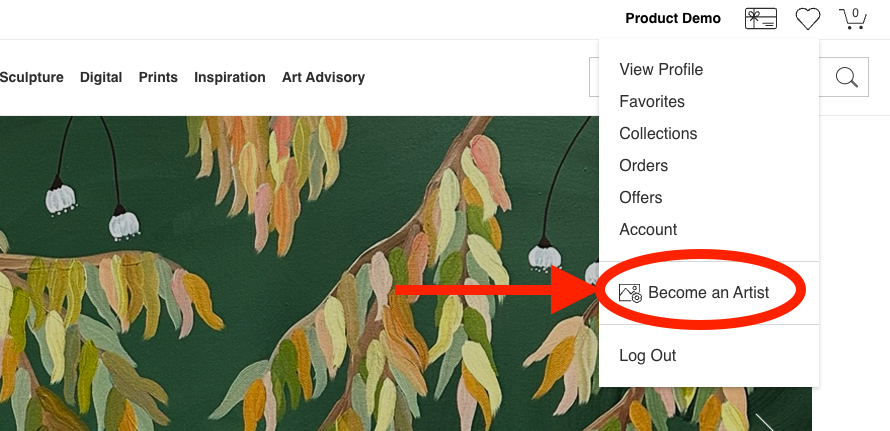 Step 2 - Create an Artist Account
Whenever you're ready, click the button that says 'Create Artist Account' (or 'Get Started' if you haven't already created your Collector account yet.)
A pop-up will show on your screen asking if you are sure. Click 'Continue' to proceed with creating your Artist Account in Saatchi Art's Studio.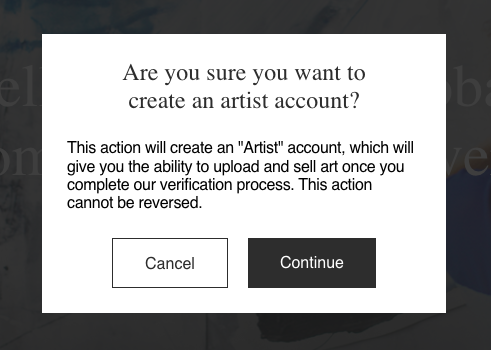 Step 3 - Verify Your Email Address
Welcome to Studio! You're one step closer to becoming a selling artist on our site.
Chances are the first thing you'll see in Studio is this message asking you to verify your email. You should receive an email from us within minutes of creating your Collector account with the subject "Please activate your account". If you set up your account with Facebook, please check the email account you used to set up your Facebook account. We need this step to verify you are the right person operating this account.

Click the Confirm Email link found within the email to verify your email address.
You can then Refresh the page to see full access of Studio.
Step 4 - Fill in Your Account Information
In Studio, navigate to the Account tab on the top navigation bar on desktop, or if using a mobile browser, you may access the 'Artist Account' page from the menu in the top left of your screen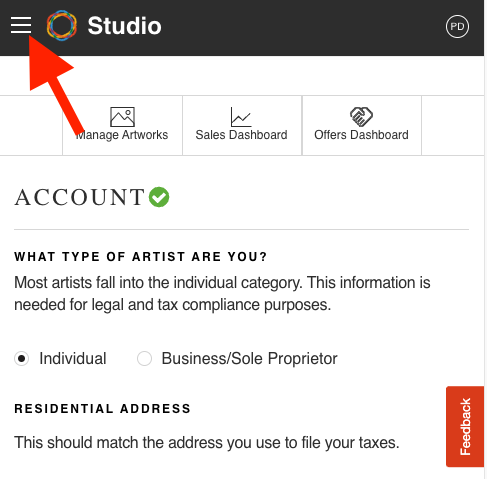 To be able to sell on Saatchi Art, we require that you complete all applicable fields on this page, including following the ID Upload process at the bottom of the Artist Account page. This includes:
Declaring either an 'Individual' or 'Business/Sole Proprietor' account type. Most accounts fall under 'Individual'.
Providing either your 'Residential' or 'Legal Business Address'. In either case, this address should match the one you use to file applicable taxes.
For artists in the EU/UK, you will also be required to fill in your Value Added Tax (VAT) information on this page.
Step 5 - Click 'Save' to Complete Your Account
Once you are done filling out the relevant fields without errors, click the 'Save' button at the bottom of the form to complete the form. This is a critical step toward gaining the ability to sell on the site.