Saatchi Art collectors expect to receive their artwork(s) as soon as possible from the time that they place an order. The Sales Dashboard is a comprehensive sales management tool that allows you to fulfill orders quickly, keep track of your sales history with us, and access payouts.
As part of our new and improved Sales Dashboard, we have redesigned the experience to keep you focused on critical order fulfillment tasks while also giving you more transparency around the payout process. Check out the demo below for a complete tutorial on the exciting features this page has to offer.
The main page of your Sales Dashboard consists of a two tabs to help keep your orders organized.
Active Sales
We define an 'active sale' as any sold artwork in the process of being delivered to the collector. The artworks in this list are sorted by Urgency first, and the Order Date second. Artworks that require you to take immediate action have a clickable, color-coded Status associated with them.
Clicking on these links will take you directly to the Sales Confirmation page in a new tab.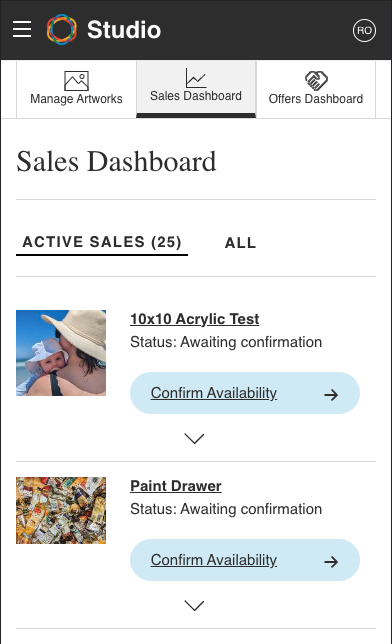 All Sales History
This page is a comprehensive listing of your entire sales history with Saatchi Art, sorted in descending order from the most recent order date to the oldest. This is where you will find a history of all 'Completed' sales. This is also where you will access your Payout Manager.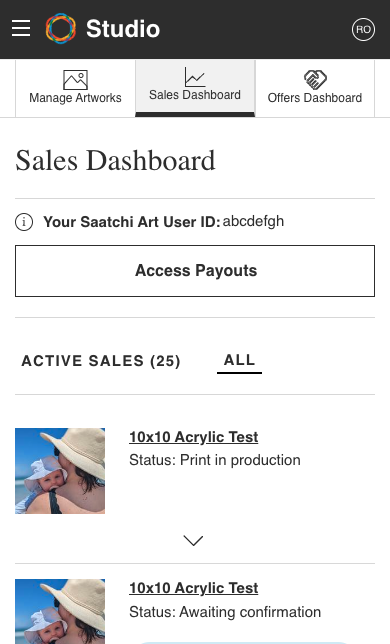 View Details
To view more details about your order, simply click on the View Detail link next to an order to see additional information regarding the status of your artwork in the fulfillment process, as well as a breakdown of your Payout (in $USD) at the bottom of each Sales Detail page.
Please note: this page is also where you will access important shipping documents for original artworks.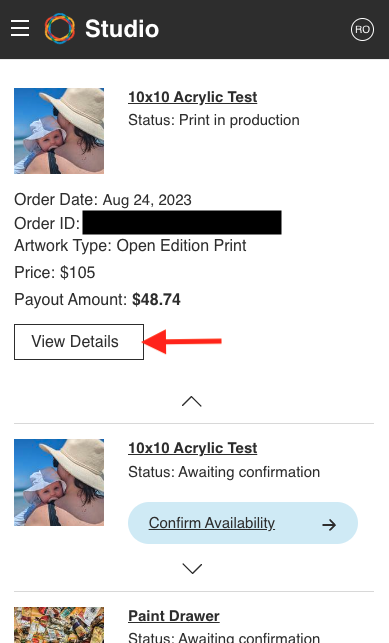 NOTE: due to the order in which certain costs are applied or calculated, all Payout Details are estimates until the order is considered closed or 'Complete" and a payout has been issued.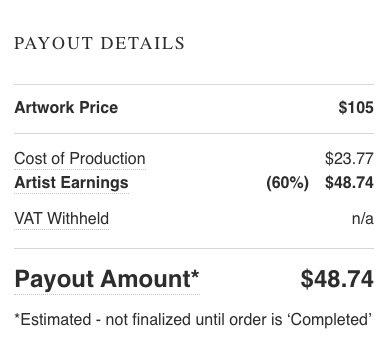 List of Statuses
| | |
| --- | --- |
| Awaiting Confirmation/Confirm Availability | Confirm the availability of this artwork and schedule shipping as soon as possible |
| Awaiting Shipment/Manage Shipping | Shipping has been scheduled and is awaiting courier pickup/drop-off |
| Missed Shipment/Reschedule Shipping | You have missed your scheduled shipment date and are required to reschedule shipping as soon as possible |
| In Production | We are in the process of producing the print product (does not apply to Originals) |
| In Transit | The artwork is en route to the collector |
| Delivered | The artwork has successfully been delivered to the collector and the return/refund period has begun |
| Completed | The sale has been completed and a full or partial payout has been issued. |
Why can't I see payout details on some orders?
The simple answer is that we haven't always stored the details of the payout associated with your artwork over the history of our operations. We urge you to a) keep your own independent records of things like payouts, discounts applied to your sales, and other related income and expenses, and b) refer to your Payout Manager (Hyperwallet, in most cases) to maintain a history of our payouts to you.
We are working to make sure you have as close to a complete history of your sales with us.
Please contact support if you need any assistance or have questions about the details of a past payout.