We want to make it easy for Saatchi Art artists to promote themselves across marketing channels, so they can focus on what really matters: creating art.
Below are a few things to consider when using social media to promote your work.
WHICH SOCIAL MEDIA CHANNEL SHOULD YOU USE?
Deciding which social media platform(s) to use to promote your work is a personal choice. We recommend considering the following when making your decision:
What platform(s) are you already familiar with, one(s) that you may already use for personal or business purposes?
Which platform(s) do you already have followers?
What platform(s) are your current and potential customers using?
What platform(s) are other artists using and finding success?
How much time do you have to create content and post?
We find that Instagram, Facebook, Twitter, and TikTok are good options for marketing art.
SOCIAL MEDIA: PERSONAL, CREATOR, or BUSINESS ACCOUNTS—WHICH IS RIGHT FOR YOU?
On most social media platforms (Instagram, Twitter, Facebook, and TikTok), if you are interested in accessing analytics like best times to post or your follower demographics, you will need to convert your account to a creator or business account to access this data.
Instagram
Both business and creator accounts can work for artists depending on your objectives and Instagram marketing strategy.
The biggest differences between creator and business accounts are the ability to use third-party apps to schedule your content and the use of commercial sounds. If you are interested in auto-publishing posts you will need a business account. If you want access to commercial music when publishing Reels, you'll want to use a creator account. Find more details on account types here.
TikTok
TikTok business and creator accounts are similar to the above, but TikTok's creator account offers unique monetization options like the TikTok Creator Fund. Find some of the key account differences below. Find more details on account types here.
WHAT SHOULD YOU POST?
Different social media platforms are geared towards different types of content and demographics. While the platform algorithms are constantly evolving, these strategies can be considered evergreen and are recommended.
The below can be captured as video or still images. Filming Best Practices Guide.
Point-of-View (POV) Shots
Wide angle of your studio, workspace, desk
Art reveal
Working on your art
Close ups:
Capture the texture of your finished work (It is glossy? Matte? Can you see the brush strokes?)
Your tools and materials (brushes, canvas, mixing paint, material, etc.)
Process/Artwork Shots
Timelapse of you working
Opening the door of your studio and walking the viewer through
Sitting at your workstation with your art in the background
Showing off a finished work
Places/details that define your perspective or inspire you:
Views through windows of your workspace
A street where you take walks between painting sessions
A place you have painted
Think of it like a video diary of your POV on the world and feel free to get creative
WHEN SHOULD YOU POST?
When and how often you post will depend on your time. Here are a few tips to consider:
Tip #1 – Post When Your Followers Are Active
You will want to post when your followers are using the platform. Finding this information will depend on the social platform and your account type, as mentioned above.
Tip #2 – Be Consistent
Decide how often you would like to post and stick with it. Whether you decide to post once a week or every day, your followers will expect and want to see content. Being consistent will help build your community and grow your followership.
Tip #3 – Be Active
Once you decide which platform(s) to use, be an active user. Not only does this help build community, but the social media algorithms also reward active users by pushing their content out to newer, larger audiences.
SOCIAL MEDIA LINKS & PRODUCT TAGGING
Social media is a great tool for directing your broader audience to your Saatchi Art Profile, Portfolio, and/or Product Pages.
Instagram
Bio
Instagram, like Twitter and TikTok, allows for one link to be added to any account bio.
Third-party social media planning apps like Later allow you to create your post, tag, and add a link all in one place. You can use Later to schedule posts for Instagram, Facebook, Twitter, TikTok, and more, but their Link in Bio feature only works with Instagram and TikTok.
Captions
Try using a call to action (CTA) in your post captions with verbiage like explore, discover, or support to motivate your followers to visit the link in bio. Visit our Instagram for inspiration and to find CTAs that work for you.
Stories
You don't have to have a business or creator account to take advantage of link sharing in your stories. When you share a new artwork to your story, use the post as an opportunity to link to the product page on your Saatchi Art profile so users can easily shop what they see.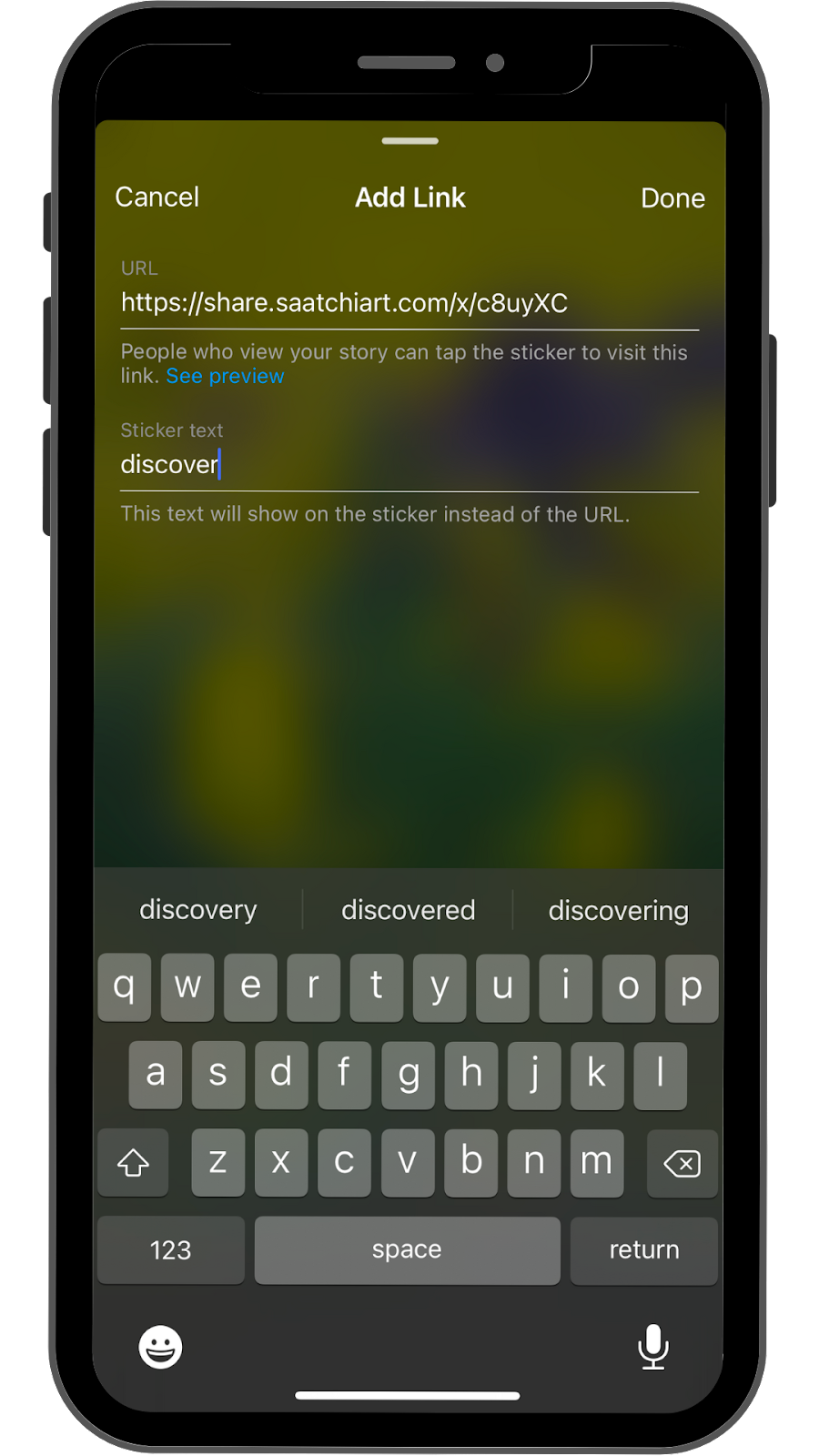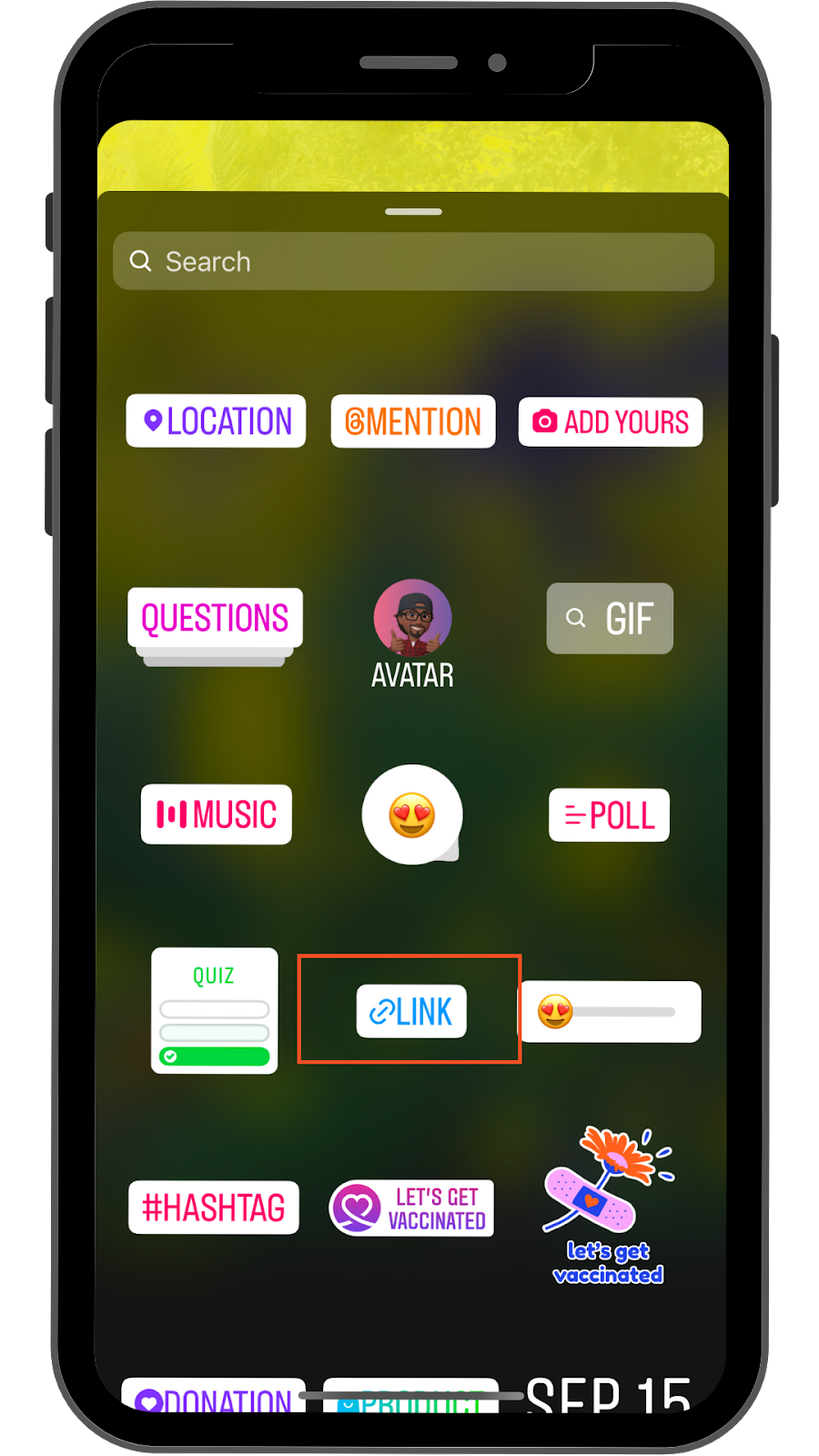 Instagram user interface as of 2023
To add a link to your Instagram story access the Stickers tab in the top right corner of the story > Select the sticker called "Link" > Add your Saatchi Art profile URL, Product Page URL, featured Saatchi Art collection, or Saatchi Art catalog
If you connect a Facebook page to your Instagram account you can set up to automatically share your Instagram story to Facebook stories. Once you add a clickable link in an Instagram story the link will also be accessible on Facebook. Learn how to connect your stories here.
Tagging Products In-Feed
Whether you have a regular, business, or creator account you can tag artworks that are available for sale on Saatchi Art*. When you create a new post or Reel you will be given the option to tag products at the final editing page, just before posting. Select Tag Products > Select the "Products" tab and click "Add Tag" > Search for the Saatchi Art shop > Search for your artwork by the name of the piece or your first and last name.
*Not all artworks are included in this feature.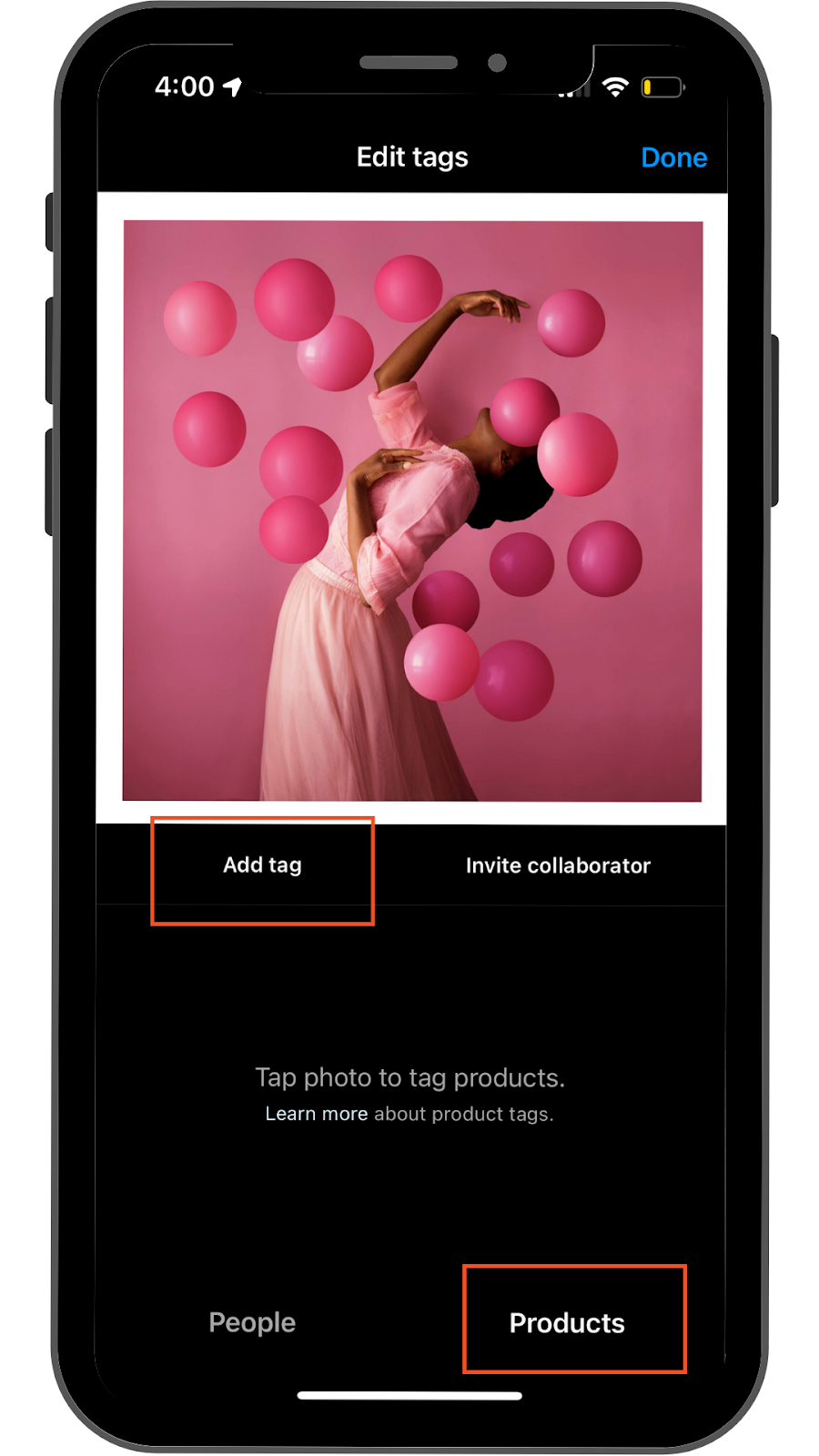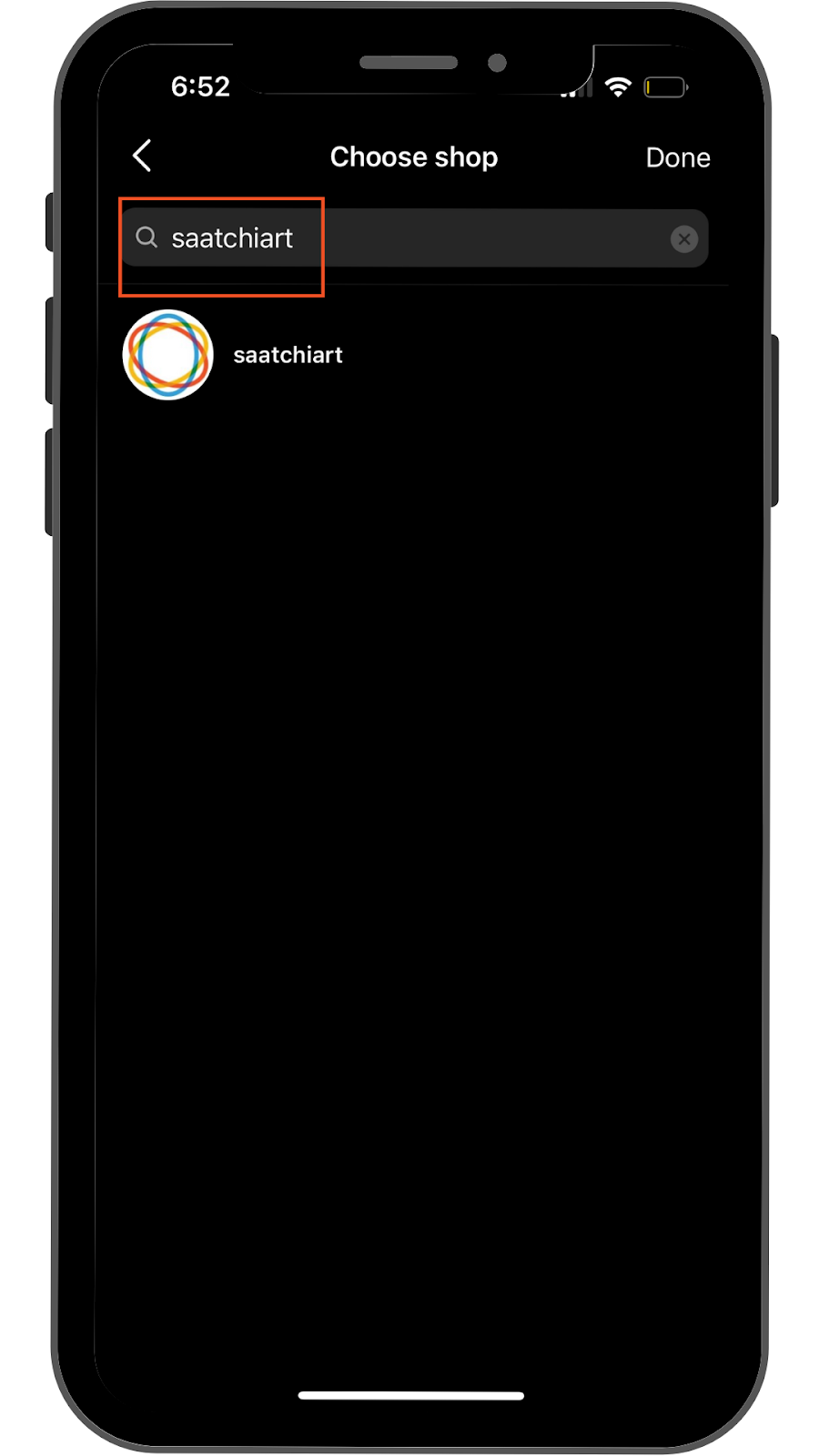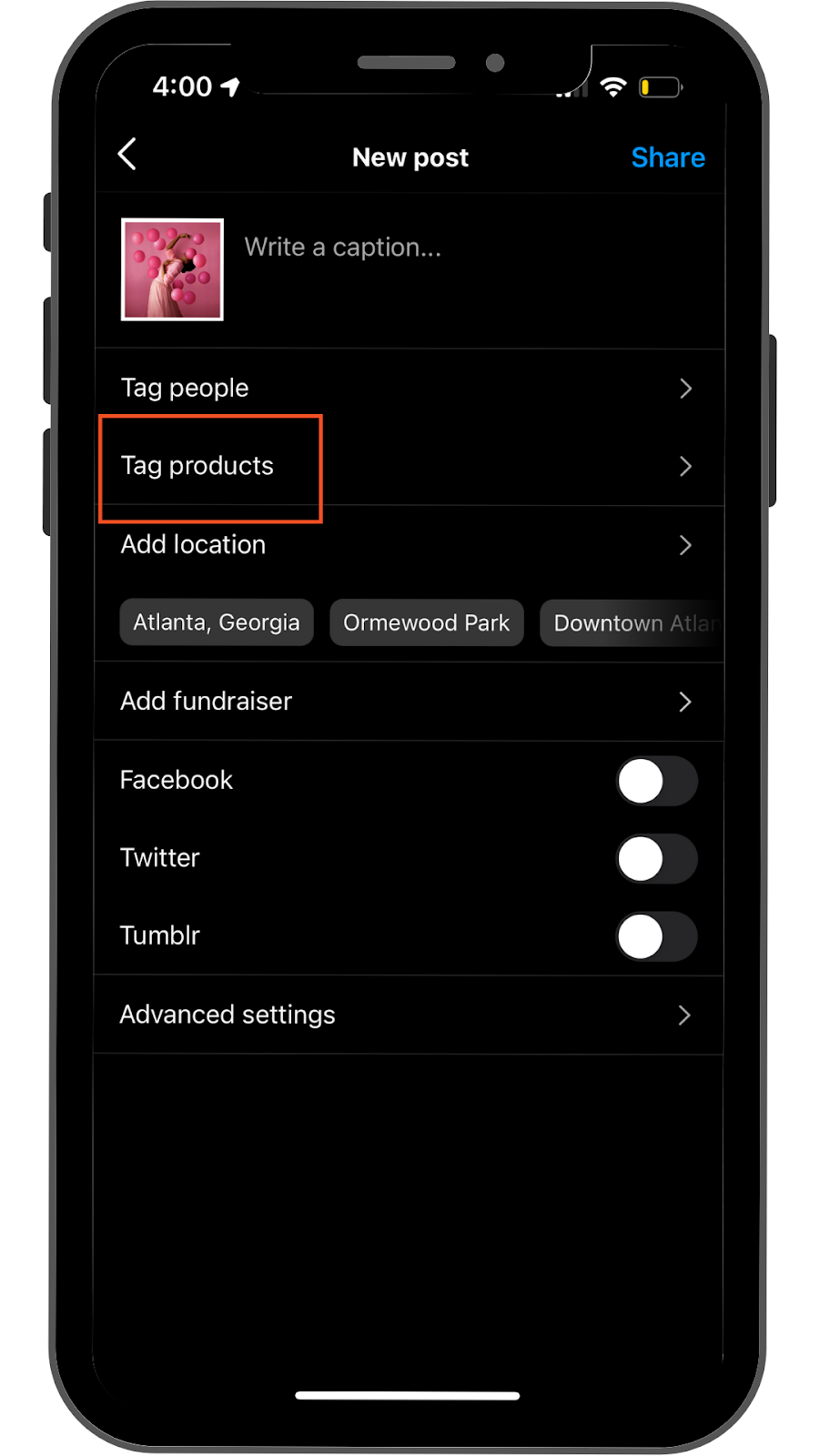 Instagram user interface as of 2023
TikTok
Bio
To add a link to your TikTok bio you will need at least 1,000 followers or an approved business account. Like Instagram and Twitter, you can use a third-party app like Linktree or Link in Bio to maximize the number of links you can display.
Facebook & Twitter
Auto Populating Links
When you access your Saatchi Art profile, you can share links that will automatically open and populate in select apps. A pop up will appear that you can edit before sharing to your profile—be sure to add an engaging CTA to entice your followers to follow the link.
You can share your Saatchi Art profile with auto populating links on Twitter, Facebook, Pinterest, and email.