Please take the time to write a detailed and compelling artwork description! They help collectors and our curators discover new works when they're searching for something specific, tell a buyer exactly what to expect when the artwork arrives, and they provide collectors with interesting background information about the work. 
Art descriptions should include practical info such as:
What extra materials were used to create the work
What type of surface the was the work created on (i.e. describe its physical texture and level of delicacy)
Whether the artwork is framed or unframed, has finished or unfinished edges
Recommended hanging/installation procedures
Whether hanging/installation hardware is included
 They should also include a bit of background info, such as:
What/who inspired the work?
What do you hope its viewers will feel/think?
Why did you choose the medium, subject matter, style?
To edit the artwork description:
 
Step 1 – Mouseover the thumbnail of the work you would like to edit and click the Pencil (edit) icon to go to the artwork's edit page.

-OR-

From the artwork detail page, click the Edit link beneath the artwork's image (within the Manage Your Art section).
Step 2 – Add a detailed artwork description in the Description field beneath the Title field.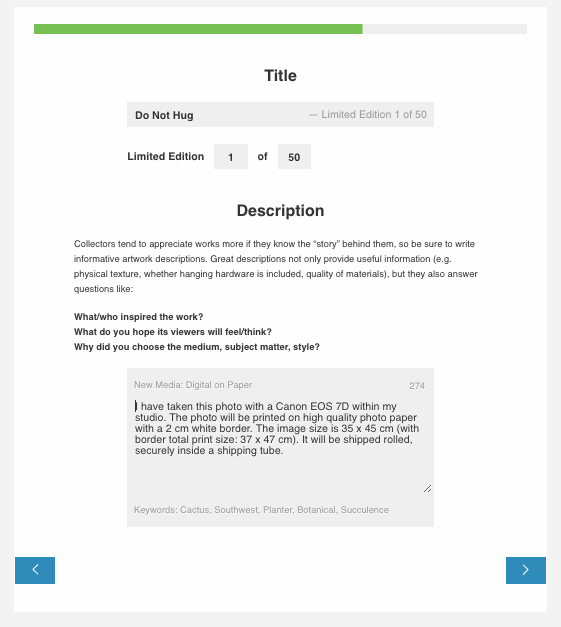 Step 3 – Click blue arrow button to the bottom right to proceed to the next step of upload. OR if you're editing, select the blue Save Changes button to the lower left sidebar.