It's important to keep your portfolio up to date! Read on for helpful tips to price your artwork, write an artwork description, list a work as a diptych or triptych, and add multiple images of an artwork.
MULTIPLE IMAGES
Recently, we introduced the ability to add multiple images for one piece of work. We invite you to use this function to share different viewpoints of your work with the Saatchi Art community. You can access this tool through your Artist Studio Artwork Overview page, or during the process of initial upload. This tool is highly recommend for any 3D artworks of any kind!
The multiple images tool is great for paintings as well! See this fantastic example,
http://www.saatchiart.com/art/Painting-Pink-Morning-Dust/168127/2629861/view
A fews things to note about our Multiple Images Tool -
You can upload up to (5) images in addition to the main image, making (6) in total.
The images must be 1500 pixels wide, anything smaller will not be accepted.
All additional images can be captioned.
Video files will not be accepted at this time.
CAN I REARRANGE MY ARTWORKS WITHIN MY PORTFOLIO?
Yes, you should be able to do so by click & drag the artwork thumbnails from your Artist Studio Dashboard.
HOW DO I WRITE AN ARTWORK DESCRIPTION?
Want to increase sales and ensure that buyers will be fully satisfied with your artwork? Write detailed art descriptions! We know how exciting it is for you when you sell one of your works. We also know how disappointing it is for both you as the artist and for the collector if the artwork is returned for a refund. Too often, the reason that buyers give us for returning an artwork is that the description didn't include important details about the work. So, we want to help you avoid this! Detailed artwork descriptions help collectors and our curators discover new works when they're searching for something specific, as well as tell a buyer exactly what to expect when the artwork arrives.
Art descriptions should include:
What extra materials were used to create the work?
What type of surface the work was created on?
Whether the artwork is framed or unframed?
Any recommended framing or installation procedures?
Here's what a detailed description looks like:
The effort you make to write detailed art descriptions will help your work gain more attention and will help us to ensure a terrific art purchasing experience for our collectors.
To edit the artwork description:
Step 1 – Mouseover the thumbnail of the work you would like to edit and click the Pencil (edit) icon to go to the artwork's edit page.

-OR-

From the artwork detail page, click the Edit link beneath the artwork's image (within the Manage Your Art section).
Step 2 – Add a detailed artwork description in the Description field beneath the Title field.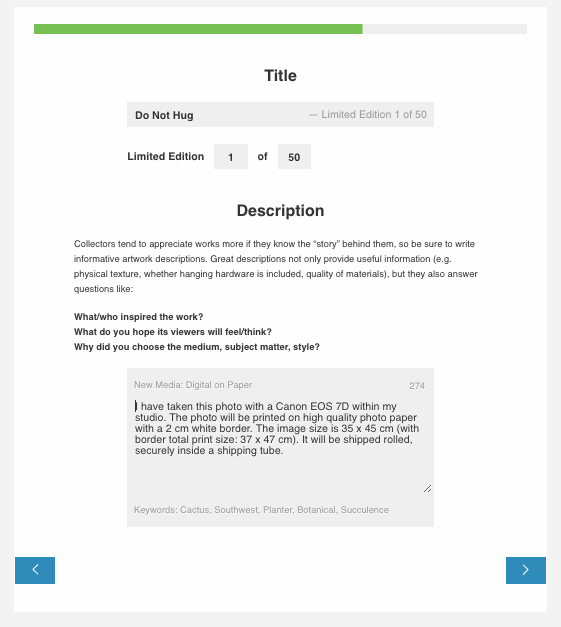 Step 3 – Click blue arrow button to the bottom right to proceed to the next step of upload. OR if you're editing, select the blue Save Changes button to the lower left sidebar.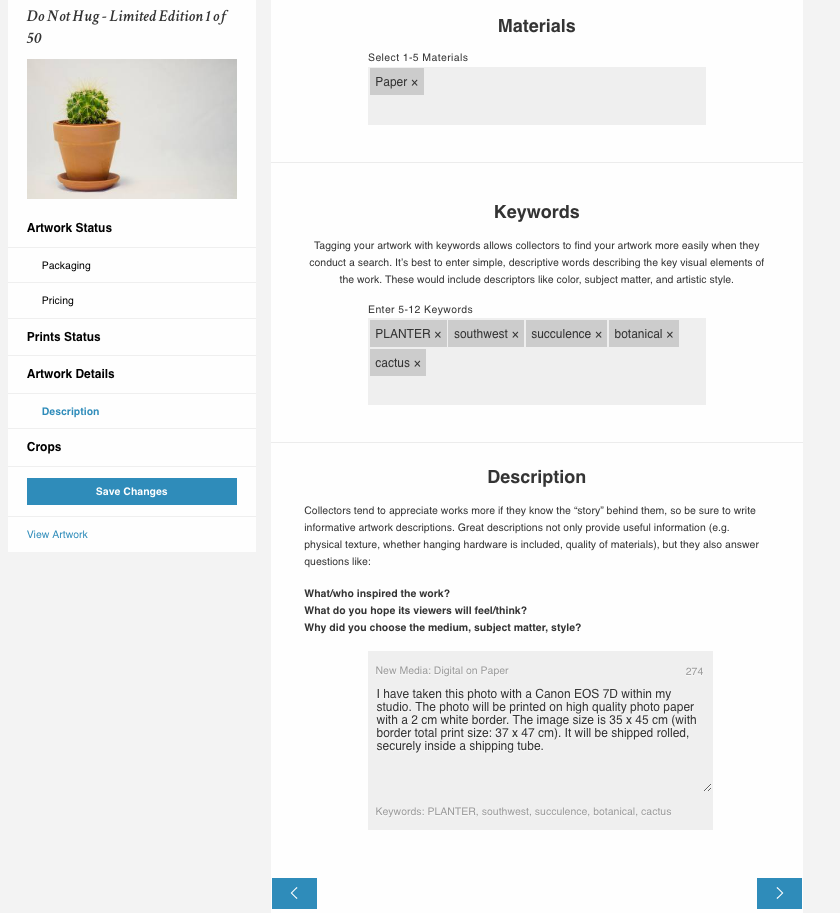 HOW DO I PRICE MY ARTWORK?
Pricing your originals appropriately is critical to selling your work. As an artist, you should always be prepared to explain how and why you have arrived at your prices. Therefore, it's very important to adopt consistent, fact-based pricing principles and methods.

If you're new to the market, the following are some basic pricing principles and methods for you to consider.

Price your art based on comparables. Set your prices similar to those of other artists with similar experience and who work in similar mediums. When comparing your works to others, consider factors such as dimensions, medium, materials, and the artists' achievements such as prizes, exhibitions, press, etc., as these will have a bearing on pricing. Also, when looking at price figures for comparison, always consider art that has sold, not art that has not yet sold.

Price your art like a retailer—at two times the cost of materials.

A common practice for new artists is to establish prices based on time, labor, and the cost of materials. Set yourself a reasonable hourly wage, multiply that by the number of hours it took to make the work and add that figure to the cost of your materials. For example, if the cost of materials is $50, your hourly rate is $20, and you spent 20 hours creating your art, then your work would be priced at ($50 x 2) + ($20 x 20) = $550.

You should also be consistent in your pricing. If you are selling one work in multiple channels, make sure its price is consistent everywhere. Similarly, be consistent about pricing works within your portfolio--for example, your larger works should be consistently priced higher than your smaller works.

Broaden your appeal by offering works at various price points. If someone likes your work but can't afford a $3,000 painting, they will find a $500 painting more attainable.

You can always increase your prices after you have made some sales and have factual evidence to justify a price increase. Keep records of all your sales and the prices at which you've sold works. Remember that it's much better to competitively price and sell your work now to gain exposure (increasing your prices in the future) than to have your work sit unsold.
If your artwork sells, the cost of packaging the artwork for shipping is the responsibility of the artist. The cost of packaging materials should also be factored into the price of your artwork. Please read our packaging guidelines to review the required packaging materials in the event that your artwork sells.
Oversized Works
Note that for larger, oversized artworks that require a wooden crate, please add an additional 30 - 35 lbs (13 - 16 kg) to the physical weight of the artwork during your upload to account for the crate. Also, if you require professional crating services, note that these services may cost up to $500.00 USD. We highly suggest that you first research your total crating costs, and then factor these costs in when pricing your artworks. If your artwork sells, Saatchi Art will provide you with the shipping of your parcel, but the cost of proper packaging is responsibility of the artists.
Promotional Discounts
Please note that on occasion, we offer promotional discounts as an incentive for new and returning collectors to explore the constantly updating selection of artwork on our site.
On occasion, we offer promotional discounts as an incentive for new and returning collectors to explore the constantly updating selection of artwork on our site. We find that offering promotions from time to time allows artists to gain the attention of collectors previously unaware of their work and a better chance to make future sales.

The discount codes typically give collectors between 10% - 15% off original works, and do not exceed these amounts. For works sold to the trade - interior designers and architects, for example - we give tiered discounts of 10% - 15% off original works.
If you sell an original work, Saatchi Art will receive a 40% commission on the final sale price. If a promotional discount code is offered, the discount will be deducted from the price of the artwork and the usual 60/40 split will then be calculated.

It is worth remembering that Saatchi Art's commission is 40%, whereas the gallery standard is 50%. This means that very often even with a discount you will be earning more through your sales with Saatchi Art than if you were to sell through another gallery that takes 50% commission.
For open edition prints, artists are entitled to 60% of the profit on each sale. Profit is calculated from the final sale price
minus
the costs of production.
It's also important to note that during your initial sign up, you agreed to the following condition (included in our official statement of
terms and conditions
)
Saatchi Art reserves the right to promote and market Original Works of Art and/or Digital Works through the use of sales and/or discounts. The sale or discount amount will apply to the listing price of Original Works of Art and/or Printed Works relating to the Digital Works. After the discount code is deducted from the sales price, our usual commission of 40% will be applied.
All-In Pricing (Global Flat Rate Shipping)
All-in pricing means that when a potential collector sees your work on Saatchi Art, the price shown will include the price of the artwork as well as the shipping costs.
We know from our collectors that they would prefer to know the total cost of a purchase, including shipping fees, before they start the process of buying a work. By giving them this information upfront we are confident that we will be able to sell more of your works.
Saatchi Art has an agreement with our shipping providers for a competitive flat rate shipping cost based on size, weight, and origin of your parcel.
You do not need to worry about calculating these costs! All you have to do is enter the price of the artwork, and we will then calculate the shipping costs for you. Please note that on the artwork detail page, the listed price of your artwork will include the shipping costs. It will look similar to this:
When you are uploading your artwork, you will be prompted to list the price of your artwork, and you will immediately see your profit as well as the additional shipping costs
We believe that collectors will respond well to a more streamlined buying experience, which will result in more sales for our highly valued artists.
HOW DO I LIST A DIPTYCH OR A TRIPTYCH?
If your artwork is a diptych or triptych, or has any component of having multiple panels that are not connected - please check the box, "This is a multi-panel artwork" during upload.
This is very important because it will help to calculate your customer's shipping cost.
This detail should also be written as a note in your Description field so that your customer can read exactly what to expect upon delivery.